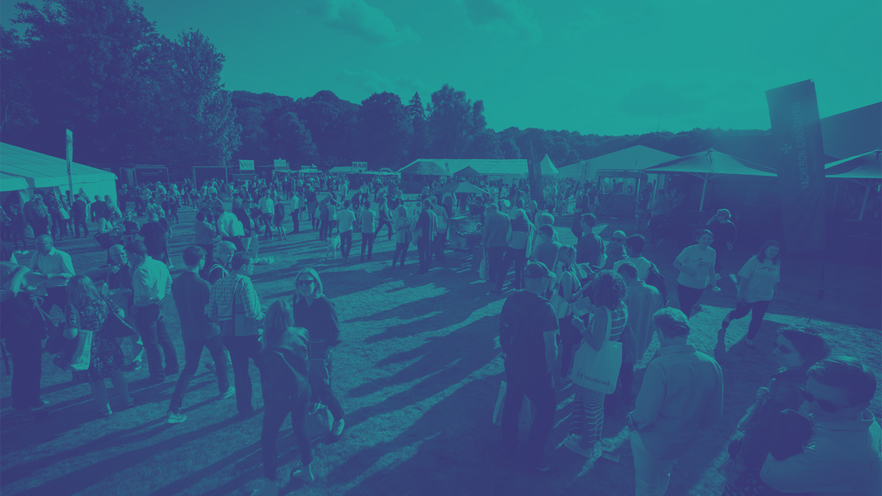 Inspired; Corporate Events – Take it outdoors
Corporate events have changed. Gone are the days of the hyper-formal, sedentary conference or the slightly-awkward annual award ceremony, we live in the world of the unconference, the internal Ted Talk and the wellness weekend.
There's a constantly growing toolbox at your disposal to create memorable experiences for your attendees. Whatever the purpose of the event and whoever the event is for there are huge benefits to breathing fresh air into your event space and taking your corporate event outdoors.
An outdoor event not only opens the door for much more exciting, lively and unique corporate events but allows you to be fairly limitless in your planning and offer a much bigger experience.
Here's a rundown of some ways you can use the great outdoors to improve your next corporate occasion as well as some of our favourite examples of open-air events to get the creative event-planning juices flowing.
First things first – choosing a venue
One of the main attractions for using an outdoor event space is adding a sense of scale and awe regardless of your event size.
Here are some of our favourite examples of events from around the world that create unique experiences in phenomenal settings to kickstart some inspiration.
Though spaces like this might be hard to come by in the UK, there are a huge number of beautiful venues to be found. From within the grandeur of historic castles to the natural beauty of Brighton Beach or elegance of Stately Home grounds, there are a huge number of unique and accessible outdoor venues here in the UK.
One thing that all of these venues have in common is they create a sense of community for attendees. Regardless of who the guests are, arriving at a corporate event with such a stunning setting instils a sense that they are all part of something unique, something better than an average corporate event.
The festival Effect
Holding an event outdoors immediately makes for a more freeing atmosphere for your guests. In complete contrast to the 'penned in' feel of being formally dressed in a tightly packed conference room, roaming outdoors will immediately set a more engaging precedent.
The feel of entering a space that is designed like a festival is not to be underestimated. Taking the same elements for your usual event – a main stage, sound, AV – and placing them outdoors under a tent makes a world of difference for an attendee's experience.
Depending on your budget and the scale of your event you can add music, workshops and incredibly engaging breakout spaces that all add up to an event that won't be forgotten.
At Grace & Tailor, we've been a part of delivering some of the biggest and most impressive music festivals in the UK and specialise in bringing the big experience of huge outdoor events to occasions of all kinds.
Creative Catering
Another upside of hosting an event outdoors is that you aren't tied down to the usual format restrictions of a conference centre or exhibition centre. Take catering, for example, you can incorporate fun, delicious food that adds to the experience, impresses your attendees and goes to representing your brand ideals.
Hands down the most social way to dine is everyone's favourite summertime meal-delivery system – the BBQ. Compared to a beige buffet, getting stuck into some professionally-grilled meat and/or veggie delights is an absolute winner for a spring or summer event.
Equally, take inspiration from the realm of the food festival. Organise multiple food stalls or food trucks to bring a wide variety of cool, incredibly-delicious catering options that get everyone moving around, mingling and bonding over everyone's shared passion for good food.

The downsides
As many incredible positives as there are for taking your event outdoors, there are obviously a few unmistakable downfalls.
Weather
Obviously, delivering an outdoor event does mean you are at the mercy of the weather gods. As we all know far too well, even the most incredible summer's day in Britain can quickly change to be a fairly wet and windy affair.
It's obviously going to improve the experience for attendees if it's blue a balmy 20°C and pristine blue skies. But should that not be the case there are plenty of ways to prepare against bad weather and ensure your event runs smoothly even if the weather were to turn.
Cost
The benefit of having an outdoor venue that's a blank canvas is that it means you can build your vision from the ground up. The downside of this is the cost. When you build staging, rigging, lighting and more into space it's going to accumulate costs quickly.
With our experience delivering massive live events we can help to advise you on how best to approach creating an incredible corporate event experience within your budget.
If you're looking to take your next event to new heights and need help with planning, coming up with creative ideas or simply advice on where to begin – get in touch.